Fresh Direct is one of UK's largest fresh food suppliers to the hospitality sector and employ around 1500 people in the UK.
When coronavirus forced the closure of restaurants, hotels, cafes and pubs, Fresh Direct were faced with the daunting prospect of tonnes of fresh food going to waste.
During a time where Supermarkets were struggling with demand and elderly people couldn't get outdoors we simply couldn't let this happen.
We turned to our family of 70 employees across the Forest Sofa group, and asked for volunteers to help us distribute tonnes of food across the community to the people who needed it the most. With a short shelf-life on fresh food we had to work quickly. Over 2 weeks we did everything we could to get over 2000 fresh food boxes out to the local people.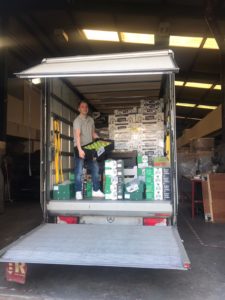 Event 1 – food boxes to raise money for the NHS
We started off with a small, local event, which took place before social distancing was fully in force.
At this time coronavirus scare had caused the British public to start stockpiling, which had left supermarkets short of stock. Elderly and vulnerable people were also self-isolating and couldn't go outdoors – particularly into crowded spaces.
Fresh Direct supplied food that would otherwise be wasted and together we held an event at The White Horse, Worsley; a Greene King pub and one of Fresh Directs customers. Food was boxed up and sold to the community for a small price of £5 – every penny was donated to our local NHS hospital, Salford Royal Foundation Trust.
This event proved there was a demand for food sources – it was a great success and £4300 was donated to Salford Royal Foundation Trust.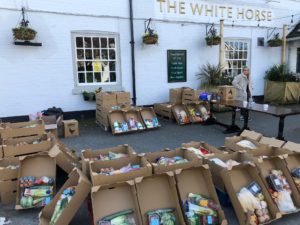 Event 2 – donations to Humphrey Booth Day Care Centre
One week after our first event and corona guidelines had increased in the UK. Isolation and social distancing was more prominent, so we needed to send food to the community with even less contact with people.
Our factories had to close and we had to furlough around 70 people. Whilst this is still deeply disappointing to us as a business, our entire team and our customers the health and safety of our our staff, couriers and customers are our main priority.
While the business slowed down, we looked at the brighter side – furloughed staff meant we now had empty vans, some free time and even more people. Team members from our group companies The Chesterfield Company, The English Sofa Company, The English Bed Company, Forest Contract volunteered to help.
We made calls to find someone in need. Eventually we made contact with Humphrey Booth Day Care Centre, an Age UK charity who offer three-course lunches, daily refreshments and a takeaway meal service to the elderly. A place that is critical to the wellbeing of the elderly people in our community.
The Centre was finding it impossible to get fresh food, and

were able to supply them with 7 pallets enought for severl hundred meals.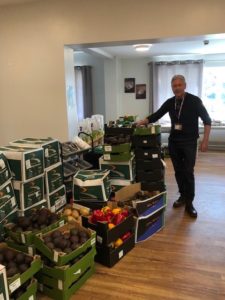 Event 3 – donations to the local community
Fresh Direct had more food – another 800 boxes.
We planned to donate the food to those who needed it in the local community, but we needed more people. We started asking for volunteers in the wider community and we were saved by St. Mary's Church in Ellenbrook, who helped us deliver all 800 boxes.
Members of the church loaded up their cars with food boxes and each box was dropped at the door of vulnerable adults, local residents and key workers.
The outcome of this event was quite overwhelming with the community sharing their thanks on the church Facebook group.
"I was incredibly grateful and overwhelmed today when a box of fresh fruit and veg was dropped at my door. We have shared this with grandparents that cant get out but the kindness of this really warmed my heart. Thank you so much for doing what you do. In a world where you can be anything, be kind."

"Thank you so much for our fruit and veg box. It was lovely to see a friendly face and to know we are being thought of. Thank you."

"Passed our box of fruit and veg to grandparents in self isolation …it was very much appreciated…there were tears!"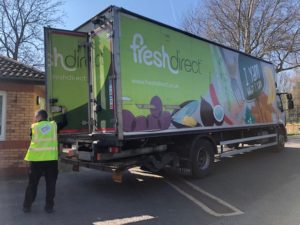 Day 4 – the grand finale!
As we all know – the changing rules and regulations of corona have been challenging and it felt like every time we tried to organise a food giveaway we had to negotiate more stringent rules.
For the grand finale we received yet another 700 boxes of fresh fruit, salad and veg, donated again by our friends at Fresh Direct, but this time we wanted to use the opportunity to show our appreciation for our Key Workers.
Between our team, Fresh Direct and some volunteers 700 food boxes were made up and distributed throughout the day:
The North West Fire Control jointly handle all 999 emergency calls and are responsible for mobilising firefighters and fire engines to incidents in Cumbria, Lancashire, Greater Manchester and Cheshire.
Boxes were dropped at the door of vulnerable people – keeping the social distancing rules.
180 to the Community Mental Health Teams (CMHT) serving Salford.
They distributed 10 food boxes to Lancaster House – a local care home, 10 boxes to members of the congregation who were isolating and 30 boxes to Barnabus a charity that helps the homeless and vulnerable in Manchester.
These boxes were given to district nurses who work in the community and look after people once they've been released from hospital.
Social workers specialising in the welfare of vulnerable adults in our community were given 60 boxes.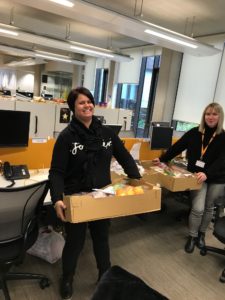 A standing ovation
Our final drop at Meadway health centre was possibly the most overwhelming of them all. We walked in to what felt like an undeserved standing ovation from the true heroes – our key workers.
During this pandemic we, as a nation have a new-found or heightened appreciation for our key workers – more so than ever before, and long may it last. Whist it was a touching moment to see their appreciation, the real applause goes to all of our Key Workers for their dedication and hard work.
Thank you
We would like to thank Fresh Direct for supplying food and volunteering their time to donate the food to the people who needed it the most.
It would not have been possible to do this without the help of our teams, Fresh Direct, the church and our local community. Thank you to everyone who kindly shared this movement on their social media, left comments in the Facebook groups and paid it forward by sharing food with others who needed it.
Finally, a thank you to our customers, to those who are with us as we negotiate this very difficult time. Your commitment to our business is appreciated and knowing we will come back to your orders is reassuring for us and our family of 70 employees.
We look forward to reopening our factories and pressing on with your orders.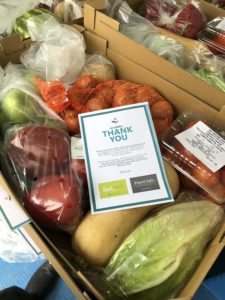 What's next?
We received an email from Karen, the vicar at St. Mary's Church. She described the food delivery movement as triggering a "wave of kindness" – people have asked where they can donate, so we set up a Virgin Money Giving Page for Mustard Tree.
"We have been bowled over by your staggering generosity. You have been operating non-stop, in stressful conditions and must be exhausted! I can't keep up with the responses we

are getting from people, it's like a wave of kindness has been triggered. People are sharing with neighbours and I honestly think they are appreciating their food. What you have done will impact on our community for a very long time and the stories will continue.

You have both given so selflessly and people will be sleeping more peacefully because of you. I do not exaggerate. The well being of those who received gifts as well as those who delivered has been tangible."
If you have been moved by this campaign and would like to donate please visit our Virgin Money Giving page. Mustard Tree is a charity committed to providing an emergency food offer, supported by volunteers. During these unprecedented times They are focusing on food clubs, toiletries, clothes, food supply and distribution including managing donations from the public.