Red Chesterfield Sofa – The Most Popular Colour ???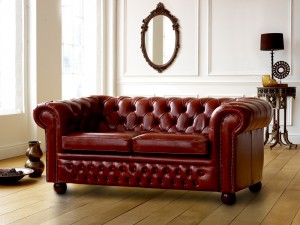 Since we started manufacturing in 1951, we've manufactured quality chesterfield sofas, and have literally lost count of the number of homes, hotels and businesses we have delivered our furniture to.
Some of our original Chesterfield Sofa designs have remained unchanged over the last 60 years, but one thing has changed notably in the last 5 years and that is the variety of leather colours that our customers are choosing to have their Chesterfields made in.
When we began 100% of our Chesterfield sofas were made in Antique Leather, and our records state that in 2007 as many as 80% of our sofas were still being requested in the most popular Antique Leather Colours – Red, Green Brown and Gold.
The Red Chesterfield Sofa is as recognisably British as Fish and Chips, but Britain is changing, we are more design conscious and as tastes change so do the colours of our sofas.  The Black Leather Chesterfield has become a regular feature on the production floor of our Manchester Factory although unlike Antique leather, a black chesterfield sofa can be made in vintage leather or premium aniline, the difference in the leather type visible on The Chesterfield Company models Ludlow and Balston Models.
The great thing about buying a British made sofa is that you can pick any colour, on any model at any time.  Unlike imported sofas where the choice of colour is limited and forcing your decision The Chesterfield Company makes any of our sofas in over 36 leather colours.  But it doesn't end there, visit our Manchester showroom and pick from over 500 leathers.  A Chesterfield is a Traditional English Sofa, but it should be as personal as it's owner, so why not come down and meet our team and create your own personal British Chesterfield.