When it comes to deciding on a new sofa piece for your home, it can be a daunting task. However when you shop with The Chesterfield Company, personalising your own suite has never been easier.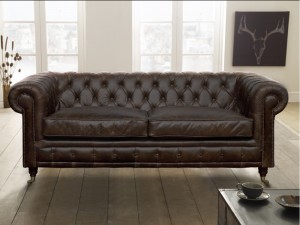 From start to finish you will have full control over what you want in your sofa and with over 50 years of manufacturing experience, we have developed skills to offer our assistance to you.
Follow these easy steps and you'll be on your way to building your perfect piece.
1. Leather- Request a Free Swatch

Aniline and Semi-Aniline leather are pigmented with natural aniline dyes to ensure the unique variation of each hide is preserved. Our aniline leathers are produced using only the top 5% of hides to create the wonderful display of leathers presented in our range. We avoid using lower quality coloured leathers whose natural characteristics tend to have been obscured in the manufacturing process, enabling the production of fine bespoke English furniture.
2. Frames
All of our frames are manufactured at the Manchester factory from sustainable solid seasoned beech wood and individually placed serpentine springs. This ensures your sofa has the solid structure for you to  appreciate your sofa for years to come.
3. Fillings
All of our foam and fibre filling comply with current UK fire regulations and our manufacturing construction is sufficient to surpass both domestic and contract standard. There are a variety of cushion fillings available to suit individuals tastes:
Duratech– Awarded the Furniture Industries Research Association (FIRA) Gold Award for product excellence. With the production of fibres made from recycled plastic bottles the innovative three dimensional spiral fibre has been tested to provide 95% loft retention after 5 years use. This technology provides a new dimension in high quality seat cushions designed specifically for today's lifestyle.
Foam and Fibre Wrap- Our ever popular foam and fibre wrapped cushion cushions is still the choice for over 70% of our customers. The foam seat ensures the interiors and cushions retain their shape, whilst the fibre top adds to soften the sit, creating a supportive yet comfortable sit.
Fully Fibre– A fully fibre seat is softer than foam, but will require regular plumping to maintain it's shape. These seats are sometimes used with our vintage leather Chesterfields and Wing Chairs.
Rustic Foam– The Rustic foam seat has been produced deeper but with a lower density creating a softer, semi-sink into sit, but still offering the recovery you would expect with a quality upholstery foam.
Buttoned Seat– Optionally available on our Chesterfield Sofas, all chesterfield designs are available with a hand buttoned seat platform instead of the traditional firm foam cushion seat.
Firm Foam– tailored precisely for the demands and style aspirations of the traditionalist and used as standard on our Traditional leather Chesterfield Sofas and Chairs. Firm with a full recovery.
Cushion Stitching– Many of our sofas feature stitching details that perfectly compliments the design of our sofas, however over the years we have been asked for differing stitching finishes or piping. The Chesterfield Company unlike many other manufactures actually offer our customers the luxury of bespoke tailoring with the selection of cushion finishing.
Piping– Historically reserved for use with fabric sofas and chairs, but equally stunning when combined with some of our traditional leather models.
Twin Stitch / Double Stitch– sometimes recognised as a saddle stitch, twin stitching is shown off well with our vintage leathers and the effect is a relaxed appearance.
Top Stitched– When simplicity is the aim, a simply top stitch is the answer. An understated finish that practical and stylish.
Studding- Hand studs or stud nails are individually fitted to all of our Chesterfield designs. Often our signature Renaissance Stud (antique on steel) is suitable, but once again the luxury of tailoring your furniture continues with the choice of 4 stud colours or even a piping option as a alternative to the traditional stud.
Mattress-Many of our great sofa designs are available as sofa beds and are supplied with a 5" sprung mattress as standard. A two fold metal frame with 1/3 webbing and 2/3 wooden slats form the base providing great support when used as a bed and optimum comfort when enjoyed as a sofa. Memory foam mattresses are optionally available on our contemporary range of leather sofas.
Restrictions in the nature of the design of our Chesterfield sofa means that only a 3.5" – 4" foam mattress can be fitted onto a 3 fold action, with a fully webbed base, without wooded slats.
Bolt On Arms- This additional service has enabled many customers to get one of our great sofas into some of the smallest of spaces. By altering the frame construction prior to upholstery we are able to offer many of our sofas with a construction design that enables the arms to be attached to the frame following delivery into the home. Our experienced furniture handlers will remove the packaging and securely bolt the arms to the frame of the sofa. Structurally sound and aesthetically unchanged the bolt on arm option has worked perfectly for many customers, with the added bonus that the arms can easily be taken off with a small amount of effort enabling the furniture to be removed from the home and move with you should the occasion arise. (currently not available on Chesterfield styles)