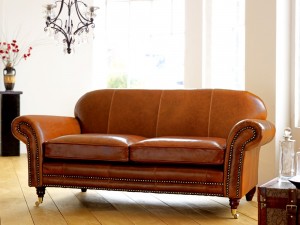 This year the focus on Interior Trends has been colour and textures. With our handmade Chesterfield Sofas we offer various styles from Wing Chairs, Stools to Leather Sofas and Sofa Beds.
Customers at The Chesterfield Company are encouraged to order a free brochure and select up to 6 leather swatches. There are four types of leathers to choose from and each piece offers you a different colour and texture. So whether you choose Antique Leather, Full Grain Leather, Old Vintage Anilline or Premium Anilline there is a leather to suit everyone.
To illustrate the process, our customers would receive their brochure with their chosen swatches and choose a sofa of their choice. With our factory based in Manchester, our customers can visit the showroom and see the manufacturing process from start to finish.
Customers from overseas can easily contact our helpful team and discuss each step to ensure they are getting exactly what they ask for.
Although this may sound simple, the choosing part can be the most daunting, but our team are experienced to handle such dilemmas so you can be sure that you are getting a bespoke service everytime.
So if you are looking to revamp your home before the Bank Holiday take a look at our Chesterfield Sofas now, especially our Sofa Sale that's been extended until 15th May.