The art deco style is instantly recognisable with its characteristic bold geometrical and angular shapes, nature motifs and use of chrome, glass and mirrors. The sense of luxury and opulence associated with this style has meant it has never really fallen out of favour but there has been a recent re-emergence in popularity.
Following on from art nouveau, it first became popular post World War 1 in France and took inspiration from French, Egyptian and Mediterranean cultures. By the 1930s the art deco movement was well and truly in swing.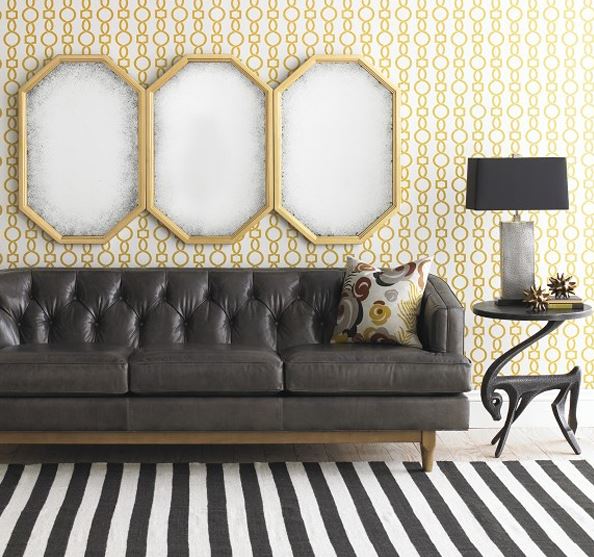 If you're looking to update the décor of a room and want to take inspiration from this style period, read on to see how to achieve your dream look.
A key piece of furniture such as an art deco sofa or art deco sofa bed with a strong, streamlined shape will really set the tone. A great example of a beautiful design is the Astoria art deco sofa bed handcrafted by The Chesterfield Company. Team this with a wallpaper adorning one wall with a bold geometrical pattern. Flooring should be beautifully polished plain parquet, black and white chequerboard or abstract patterned linoleum and can be complemented with a large rug, again with a geometric pattern. The colour palette of the art deco style includes bold colours such as black, silver, red and yellow in combination with cream, beige and oyster. If you're going all out, your fireplace should be straight edged and rectangular with the characteristic 'stepped' profile. Authentic fireplaces of the period are few and far between due to them being constructed of concrete. Mirrors in the art deco style add that finishing touch as do lamps in chrome or etched glass.
If you're looking for that extra bit of inspiration, head down to our showroom or visit our website and see how we can help you in creating your art deco styled room.
Like us on Facebook and follow us on Twitter and Google + for all the latest news, offers and events.