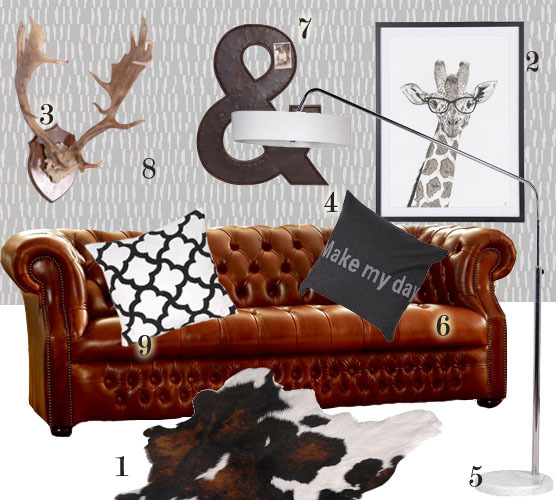 The clean, streamline designs of Scandinavian décor is hugely popular right now. And the simplicity of the décor style goes beautifully alongside the contrasting vintage nature of the Chesterfield sofa.
We've put together the above mood board in hope to inspire you when creating a Nordic style room. All pieces shown are available at The Chesterfield Company, please call 0161 737 1600 for more details.
1. Small natural hide rug
This 3 colour natural hide rug perfectly reflects the nature-based aspect of Scandinavian décor and looks beautiful against the Chesterfield Sofa.
2. Giraffe in glasses print
Quirky and fresh, this will lighten up the mood of any room and the black frame fits with the theme perfectly.
3. Large Antlers Wall Plaque
No Scandinavian themed room is complete without wooden accessories and this one would act as a beautiful statement piece in your space.
4. Grey cushion
Adding extra comfort to your leather Chesterfield sofa, in preparation for those cold winter nights!
5. Chrome and white floor lamp
Light, bright, simple and practical – the perfect lighting choice for your Scandinavian style room.
Often, Scandinavian style sofas are light in colour, however, this might not be the best option for a large and busy family. This leather Chesterfield sofa, available in a huge range of leather styles and colours, is perfect for the family and looks beautiful alongside your Scandinavian style accessories.
7. Irregular dash wall covering
Much like sofas, Scandinavian style walls are often left white, or neutral in colour. However, for family life, this Flexo printed, high quality wall covering would make a perfect substitute.
8. Large ampersand, iron member board
This wall art will add a unique and interesting feature to your Scandinavian space!
9. Tile pattern cushion
Contrasting patterns add lots of personality to a room and this one goes perfectly with your Scandinavian theme.