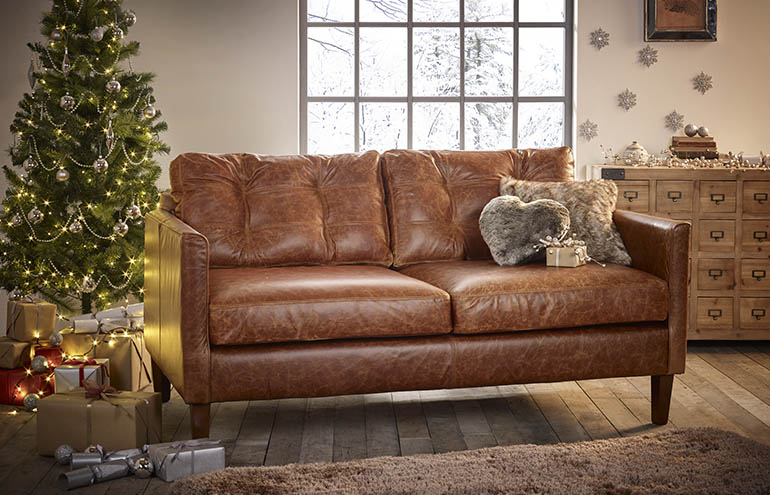 To help mark the start of the big Christmas countdown, The Chesterfield Company has launched our brand new pre-Christmas delivery category! We know that getting the right sofa in time for your in laws popping around for the Christmas festivities is imperative! That's why this year we have selected a large variety of our sofas that are guaranteed pre-Christmas delivery sofas!
We have a fantastic range to choose from, and even include a wide variety of leather sofa beds available, too! A sofa bed is a great way to make the most of the space that you have available, and provides a really comfortable experience for your guests, friends and family. Each one of our sofa beds is available in the same range of full grain, vintage and premium leathers as our standard sofas are available in, but this year we have introduced two brand new models in to our range for you to take a look at.

The Hamilton Studded Leather Sofa Bed (featured on the right) and The Shaftesbury Distressed Leather Sofa Bed (Featured on the left) are distinctly different sofa beds, but both feature the same standard 3inch thick foam mattress, with the ability to upgrade to a 3.5inch Memory foam mattress – great for that added comfort!
Each one of our sofas is made strictly by hand from the ground up in our purpose built factories here in Manchester and also Blackburn. This means that despite guaranteed Christmas Delivery, you will still receive one of our handmade premium products with your choice of leather and cushion interiors!
Guaranteed pre-Christmas delivery only applies to the selected models in our Christmas Delivery category and are available to order until 7th November.