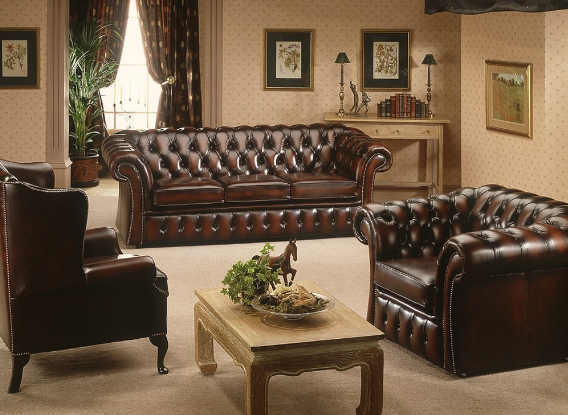 Where did Chesterfield sofas first appear? Northerners might hope to claim them as hailing from Chesterfield in Derbyshire, but sadly this is not the case.
Quite the opposite in fact, as their invention is generally credited to Lord Philip Stanhope, the 4th Earl of Chesterfield, not to be confused with the several other Philip Stanhopes who preceded and followed him.
Lord Stanhope – who lived not in Derbyshire, but in various locations including Grosvenor Square, London – was a wise man, with several quotations attributed to him, including:
"I recommend you to take care of the minutes, for the hours will take care of themselves."
"An able man shows his spirit by gentle words and resolute actions."
He lived up to the latter of the two when on his death bed, as his last words were reportedly "Give Dayrolles a chair".
This was interpreted literally by his servant, who not only allowed the attending diplomat Mr Dayrolles to pull up a nearby Chesterfield sofa, but insisted that he take it home with him.
Dayrolles was apparently so impressed by the furniture that he later commissioned several more matching pieces – and the legacy of the 4th Earl was secured.
But what led the Earl to create Chesterfield sofas in the first place? The answer is born out of a sense of propriety and formality.
He wanted an item of furniture upon which a gentleman could sit, such that he rested in an upright position, but without creasing his clothing.
The hallmark shape of a Chesterfield is designed entirely for this purpose, with a low seat, a deep, straight back, and rolled arms, while a regular pattern of buttons adds a further visual cue to Chesterfield sofas.
The Earl died in 1773 at another London location, Chesterfield House in Westminster, which he had built around 25 years earlier.
His deathbed request to "give Dayrolles a chair" is arguably what cemented the Chesterfield sofa's place in history, not just as a bespoke item of furniture for the Earl's home, but as a design worthy of replicating on a grand scale.
As such, it is perhaps not surprising that the date of his death, March 24th, is still celebrated as 'Chesterfield Day' a quarter of a millennium later.
This history and heritage, as much as the practicality and comfort of the furniture, is what continues to attract people to Chesterfield sofas – and is likely to do so for centuries more to come.
Like us on Facebook and follow us on Twitter and Google + for all the latest news, offers and events.