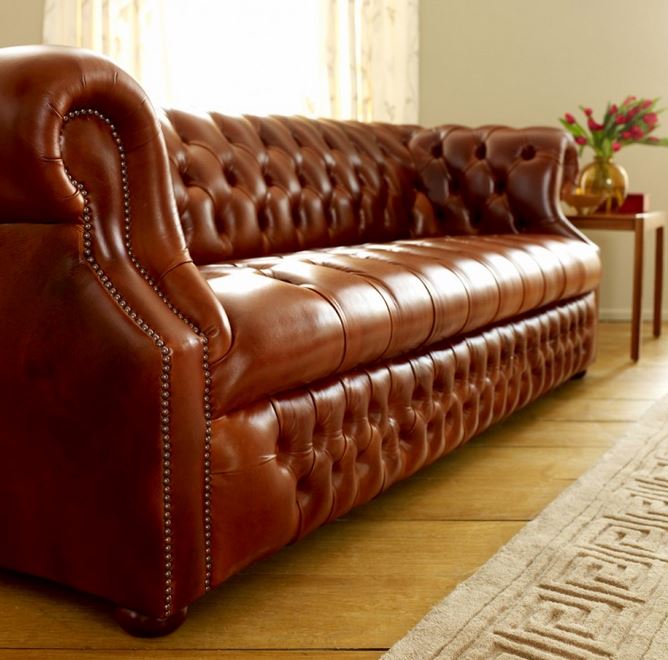 Here at The Chesterfield Company, every single one of our leather Chesterfield sofas are lovingly handcrafted here at our factory in Manchester using techniques that have been handed down through generations of expert upholstery makers. All our sofas are made to order and you can choose one of our existing designs created by our in-house design team, or the designs can be tweaked to your own specifications if you want something truly unique. Here's an insight into some of the processes involved in making a Chesterfield leather sofa.
The Frame
Every Chesterfield begins with the making of a sturdy wooden frame. Our frames are made with solid seasoned beech, sourced from sustainable forests. The frame is held together with pegs and strong wood glue for extra robustness and we can either build it as a single frame, or with detachable bolt-on arms, allowing it to be assembled separately if size restrictions prevent it from being delivered in one piece.
Strong yet flexible serpentine springs are then laid across the bottom of the frame. Soft cushioning is then fastened to the back and the arms of the frame and holes are drilled through the cushioning into the wood, allowing the leather to be attached.
The Leather
Only the highest quality hides are used and it is the masterful technique of tightly folding and buttoning or 'tufting' the leather when fastening it to the frame that gives the Chesterfield their distinctive appearance. The upholstery round the back and sides of the frame is then further fastened using metal studs, which not only secure the hide in place but also add to sofa's character.
The Filling
A lot of care and attention is given to making your Chesterfield leather sofa a joy to sit on. A wire mesh frame is created, which is laid on top of the serpentine springs. This is then filled with soft, flame retardant stuffing and lined with leather and material. Handmade foam filled leather cushions can then be placed in the centre of the sofa. We have a wide variety of styles to our cushions to suite your tastes and requirements.
The Finish
Finally, the leather is lovingly finished with a special polish, which brings out the natural shine and unique character of the leather whilst protecting it for many years to come.
To view our range of handmade leather Chesterfield sofas click here.

Keep up with The Chesterfield Company on Facebook, Twitter and Google+.