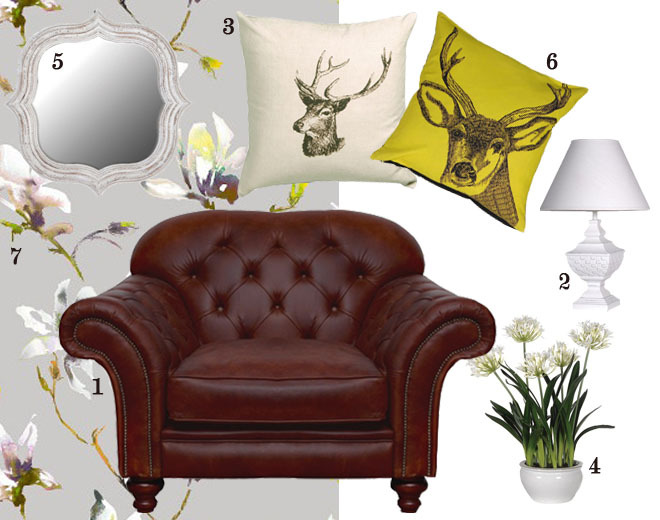 As you can imagine, we of course hold the Chesterfield sofa in the highest of regards. We think this sofa choice is a classic and timeless piece, and could sing its praises all day! However, we will also be the first to admit that dressing your Chesterfield sofa for the spring and summer months may require a little bit of creative thinking.
One of the many really great things about a Chesterfield sofa is that they are enough of a feature in their own right, so accessories are not absolutely necessary. However, Chesterfield sofas are more often than not chosen and made with leather material choices, many of which are on the darker side – so during the warmer and brighter seasons it is nice to lighten up your furniture with some fresh room accessories. And don't be fooled by the vintage and rather serious look of your Chesterfield, it will look absolutely beautiful with the right bright and contemporary furnishings!
However, there are ways of accessorising your Chesterfield so that the authenticity of your unique sofa is not lost, or hidden amongst layers of materials and clashing room accessories. If you want to add bright, spring coloured cushions – choose an old English style print. If you want to surround your sofa with some new lamps, choose a vintage style but in a lighter colour. Always stay true to the style of the sofa with either your theme or your colour scheme and then you can experiment with whichever one you don't choose.
Pictured above is our moodboard which we put together as inspiration for you. Please find details of the products featured below…
This piece is also available in a range of full sofa sizes from 1.5 seater – 4 seater. This modern twist on the original vintage Chesterfield sofa has luxurious feather topped seat cushions and handmade, deep buttoning. It is fully customisable in the leather of your choice and comes with a 5 year framework guarantee.
Although the finish of this lamp is very vintage, almost 'shabby chic', it is light and the square pattern gives it a contemporary edge.
This beautifully simple feather inner, cushion is perfect for all seasons but fits beautifully within both the spring theme and vintage vibe of your Chesterfield sofa.
Brighten up your living space with these low maintenance Agapanthus plants. No water means no damage to your sofa or accessories!
This shabby looking mirror will reflect the vintage look of your Chesterfield sofa perfectly, whilst providing the light colour needed to bring spring into your space.
Every room needs an accent colour or two – this yellow/light green cushion is enough of a contrast to give your living room a contemporary edge, whilst steering clear of garish, clashing accessories.
This delicate, digitally printed, watercolour material, shows a fusion of gentle pastels and neutrals with flashes of vibrant colours. Coordinating perfectly with the above accessories – this beautiful fabric could be used to make a luxurious throw or more scatter cushions.
All of the above items are available for order via The Chesterfield Company, please call 0161 737 1600 for more details. Alternatively, you can visit our Manchester showroom to see the accessories for yourself (subject to availability).