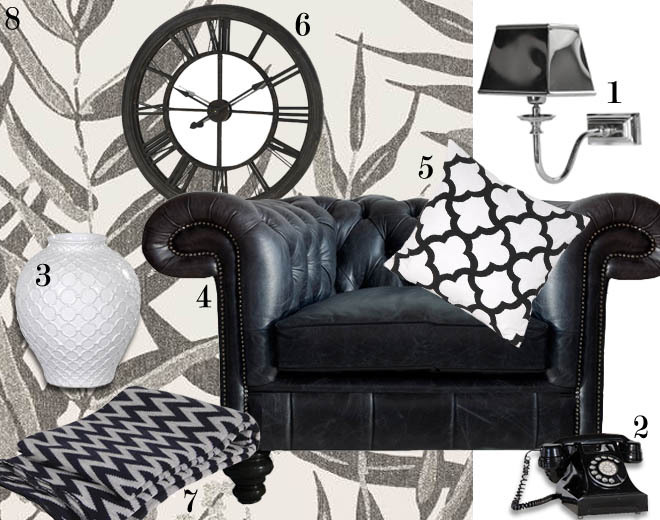 The Chesterfield sofa is often loved by many who are fond of vintage styles and comforting, antique-looking décor. But this style isn't for everyone, and one of our aims is to show the versatility of the Chesterfield sofa by showing different styles, both contemporary and vintage, to you.
This month, as we sit in between seasons, we are focusing on how to put together monochrome styles of furniture and décor.
The key is to mix lots of different patterns and textures, whilst still concentrating on the black/white (and sometimes cream and grey) tones. By staying true to your theme, yet combining contrasting pieces, you should have a beautifully put together and elegant space.
The above mood board demonstrates how you can put items together for a final, polished look. And the joy with monochrome is you can spread the theme throughout the entirety of your space, or simply take one or two pieces that would look perfect with your current décor.
Please find below details of all products featured on our mood board:
1. Steel Wall Light
This elegant yet masculine wall light offers a polished finish to a monochrome room without being too obvious.
2. Decorative Black Telephone
A nice change from the usual ornaments and ceramics, this telephone will offer a stylish edge to your monochrome space.
3. Large Patterned Vase
No room looks completed without a vase and we think this one would lighten up your space against your various black items.
4. Paxton Chesterfield Sofa
Of course, as the focal point of your monochrome space, your Chesterfield sofa would look perfect in a beautiful, high quality, black or white leather. This Paxton sofa is also available with a more traditional Chesterfield buttoned seat.
5. Tile Patterned Cushion
This sophisticated yet fun pattern adds personality to your room, whilst remaining true to your theme.
6. Large Black Mirror Backed Clock
Simple, stylish and practical – this clock has got lots to give to your room!
7. Chevron throw
The chevrons add contrasting patterns and personality to your room, and the grey offers a different tone whilst sticking to your theme. Not forgetting to mention – very cosy!
8. Leaf wall covering
This specialist printed wall covering adds a softer, contrasting finish, to a monochrome themed room.
All of the above items are available for order via The Chesterfield Company, please call 0161 737 1600 for more details. Alternatively, you can visit our Manchester showroom to see the accessories for yourself (subject to availability).