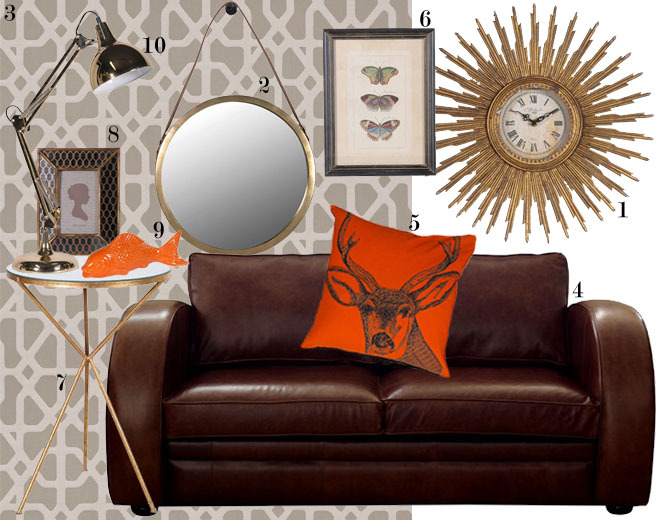 Geometric shapes, metallic surfaces, glass or mirrored finishes and intricate details – these are the generic traits of the Art Deco interior design movement that is often replicated today.
The design era started in the 30's and now has strong influences from each decade – especially the 50's and 70's. The whole purpose of this design theory is to create drama by choosing furniture pieces that are interesting, and contrasting, yet compliment one another.
Curved chair arms, art work, pops of bold colour, geometric wall paper and underlying neutrals are all ways in which you can create a beautiful Art Deco inspired room at home.
Above is our Art Deco mood board, a somewhat mish mash of pieces that reflect a comfortable representation of the style.
1. Sunburst Clock – £46
(Diameter: 390mm)
This Sunburst clock reflects the 50's nature of Art Deco and adds the metallic finishes that are so important when mimicking the style of Art Deco décor.
2. Saddle Leather Round Mirror – £205
(Diameter: 530mm)
A bold, rounded (or curved mirror) will act as a beautiful and appropriate feature in your space.
3. Geometric Wall Covering (Please call for further details on price)
Geometric shapes are a must for any Art Deco inspired room, and by including them in your wall covering, the effect will be subtle yet bold.
4. Astoria Art Deco Sofa – Starting from £695
This beautiful 50's style sofa is the perfect feature in an Art Deco themed room – and is available in a huge variety of sizes and leathers.
5. Orange Stag Cushion Cover – £21
(Size: 500mm x 500mm)
Art Deco style decor can be a little busy – so to tone it down be consistent with your bold accent colour by incorporating just one or two. For example, this cushion matches our orange fish ornament perfectly.
6. Butterfly Species Print – £15
(Height: 410mm. Width: 310mm)
Include interesting wall art, such as this unique butterfly print.
7. Gold Tripod Lamp Table – £142
(Height: 640mm. Diameter: 430mm)
Modern, yet vintage and delicate in terms of style – this table is absolutely perfect for your theme.
8. Wire Pattern Photo Frame – £14
(Height: 800mm. Width: 185mm)
Stylish photo frames are a must for adding comfort and personality to your space.
9. Large Orange Fish – £9
(Length: 270mm)
Choosing a bold accent colour or two is very important. The colour orange was strongly seen throughout both of the 50's and 70's, therefore will help you to achieve a vintage, yet fun, style.
10. Gold Angled Desk Lamp – £49
(Height: 800mm)
This almost industrial yet oh-so-50's style lamp is modern yet in keeping with the theme of your other Art Deco décor pieces.